We are a group of artists from diverse backgrounds and all levels of ability, all located in the Fredericton, New Brunswick area and interested in promoting FSA's constitutional goals:
". . . to foster the practice of painting and graphic arts in Fredericton and to cooperate with other organized bodies in support of similar interests."
The Fredericton Society of Artists travelled to St. Andrews, NB on Tuesday, August 23, 2016 for a day of plein air painting or, literally, painting outdoors in the open air. FSA chartered a bus and there was no charge to FSA members for transportation. Members took their own lunches or had lunch on their own in St. Andrews. Member Bruce Newman prepared a plein air checklist for those who were not familiar with outdoor painting. A wonderful day of painting outdoors for our members!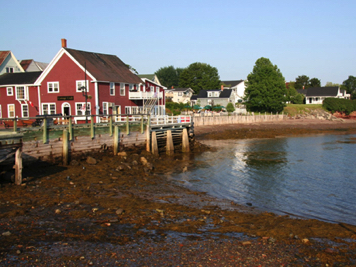 2017-2018 Executive & Committee Chairs
President: Geraldine Poirier Baiani
Vice President: Elena Cobb
Secretary: Debb Ferris Bates
Treasurer: Marie Paule Paulin
Past President: Ruby Allan
Workshop Co-ordinator: Gladys Neilsen
Critics Co-ordinator: Don Gould
Exhibition Program Developer: Gayle Meyer
Web Controller: Bruce Newman
Calling Committee: Lynn Billings
Hanging Committee: Linda Tiffin
Logistics & Set-up: Len Leger
Publicity Co-ordinator: Joanne Violette
Besides, we have fun!
We meet on the fourth Tuesday on each month from September through May at 7:00 PM at Old Government House in Fredericton, NB. Our meetings consist of a short business meeting which is followed by a critique of members' works.
In addition to our monthly meetings, we hold two major exhibitions each year, one in the spring and the other in the fall. We also exhibit as other occasions arise.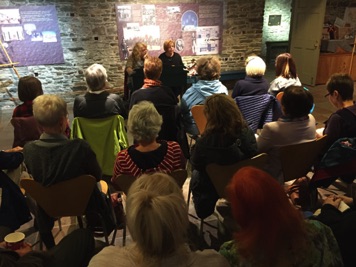 You are welcome to get a feel for our group by attending a meeting or two and we hope that you will consider joining us.
Members, please take note of the following dates:
Annual Spring Exhibition, May 3 to May 12. We will set up on Wednesday with the opening on Thursday night and take down on Saturday the 12th. Sunday is Mother's day.
The Playhouse Exhibition. We are booked for July and August. Details will follow. They will allow us to place a sandwich board sign outside this year and the staff will bring it in and out daily.
Glenn Priestley Live Drawing Workshop, April 7. One day from 9 to 4 at the RBC Learning Centre, Beaverbrook Art Gallery. Max. 20, more details a the next meeting but we will be taking deposits in February.
Poppy Balser Watercolor Workshop, June 20 and 21. Possibility of one day Plein Air and one day in Studio. Note that these two days are during the week rather than the weekend. More details to follow.